First ACX Brno Meetup
Pondělí, 15. května
20:00
-
21:30
KDE
JAZYK
English/Czech
organizátor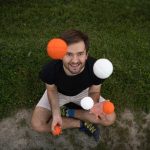 Michal Keda
In many cities worldwide, there are (regular) meetups for people interested in Astral Codex Ten – https://astralcodexten.substack.com/ – famous blog by Scott Alexander. Many blog posts are closely related to topics of effective altruism, so we are organizing the first ACX meetup in Brno.
As Scott says: "If you're reading this, you're invited. Please don't feel like you "won't be welcome" just because you're new to the blog, demographically different from the average reader, or hate ACX and everything it stands for. You'll be fine!"
Organization
No special program, we can just talk about (ACX) topics, you can get to know new people etc.
If you arrive sooner or later than 19:50-20:00 (which is absolutely fine), you can encounter locked doors. In that case, just call 777 236 536 and we will let you in.
We will decide on using Czech or English as the main language depending on the people who turn up. Just come, we will figure it out!